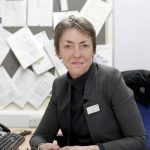 Dr Maeve Malley, a Nye Bevan programme graduate, and Consultant Systemic Psychotherapist for Adult Mental Health at Oxleas NHS Trust shares her motivations as a clinician, manager and leader.
As part of the application process for the Nye Bevan programme with the NHS Leadership Academy, we had to write a piece about the things that had made us who we were and the ongoing influences that were part of us (or at least, that's my memory of the task – it was probably something wholly different and much more scientific).
So, I did what I always do – I used it as a platform to come out. Not just as queer, but as Northern Irish, as all the things that matter to me and that I bring to work, to leadership programmes, to friendships and relationships, every day of my life.
That's always been my approach. As a psychotherapist, I'm aware of the reasons for that approach – that I obviously have a belief in attack as the best form of defence, that I use belligerence (I prefer to see it as a charming assertiveness) to define my territory and to 'see off' potentially adverse judgements.
I'm also aware that it has downsides and limitations as an approach, but for those of us with 'invisible differences', it has the advantage of making potential employers, tutors or colleagues aware that my sexuality is something that I see as a core part of me as a clinician, a manager or – gulp – a leader.
Every time I've applied for a job, or a course, or a particular role, I've included somewhere in the application something that shows that I don't identify as heterosexual. I might mention the fact that I'm the chair of our Trust LGBT Network, or that I really valued the Stonewall NHS Leadership days that I attended, or something else that makes it fairly clear.
I don't feel that this is what people – colleagues, leaders, managers, clients – 'should' do. I know that my life experience has predisposed me to a belief that I'm a 'good enough' and loveable enough person and that if people don't like me or value me, it doesn't destroy my sense of myself. I also know that I'm sufficiently senior in my job hierarchy that I'm in some ways less vulnerable to bullying or exclusion than those who are less protected in this way.
Equally, however, I know that needing, rather than choosing, to hide core or important aspects of ourselves can make us feel more vulnerable, more isolated and more self-hating and that's not something I want my colleagues, my clients, my managers and my leaders to feel. And – given that we all use the NHS at some point in our lives – and many more LGBT people work in health and care than any other industry, that's not how I want the NHS to feel either.