It wouldn't be right for me to write about black heroes this month without writing about the most well-known and well-loved black hero of our age. This man is well loved, admired and, I think, one of the most amazing human beings ever.

Nelson Rolihlahla Mandela was born on 18th July 1918 in Mvezo, South Africa. He is a South African anti-apartheid revolutionary and politician who served as President of South Africa from 1994 to 1999. He was the first black South African to hold the office, and the first elected in a fully representative, multiracial election. His government focused on dismantling the legacy of apartheid through tackling institutionalised racism, poverty and inequality, and fostering racial reconciliation.
Nelson was a Xhosa (the Xhosa people live in south-east South Africa, and in the last two centuries throughout the southern and central-southern parts of the country.)  Desmond Tutu is also from the Xhosa tribe. Born to the Thembu royal family, Nelson attended Fort Hare University and the University of Witwatersrand, where he studied law. Living in Johannesburg, he became involved in anti-colonial politics, joining the ANC and becoming a founding member of its Youth League.
In 1948 the Afrikaner Nationalist party came to power and began to implement the policies of Apartheid. Apartheid was a system of racial segregation enforced through legislation by the National Party (NP) governments, who were the ruling party from 1948 to 1994.

Apartheid meant that millions of the indigenous black people of South Africa were treated as second class citizens in their own country. They were not able to enjoy the freedoms and opportunities of white people that had settled in their country. It is interesting to note that the descendants of slaves in the US were also subject to a form of Apartheid as a consequence of the Jim Crow laws in that country at the same time. I think Nelson Mandela and Martin Luther King Jr. had a lot in common, fighting for the freedom of black people in two continents during the 1950s and 1960s. It is also interesting to note that along with Mahatma Gandhi, these men are seen as modern day heroes through their fight for justice and fairness.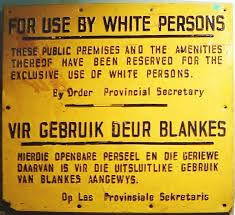 After the Afrikaner nationalists of the National Party came to power in 1948 and began implementing the policy of apartheid, he rose to prominence in the African National Congress party (ANC) 1952 Defiance Campaign and was elected President of the Transvaal ANC Branch and oversaw the 1955 Congress of the People. Working as a lawyer, he was repeatedly arrested for undercover activities and, with the ANC leadership, was prosecuted in the Treason Trial from 1956 to 1961 but was found not guilty. Although initially committed to non-violent protest, in association with the South African Communist Party he co-founded the militant Umkhonto we Sizwe (MK) in 1961, leading a bombing campaign against government targets. In 1962 he was arrested, convicted of sabotage and conspiracy to overthrow the government, and sentenced to life imprisonment in the Rivonia Trial.
Mandela served 27 years in prison, first on Robben Island, and later in Pollsmoor Prison and Victor Verster Prison.
I believe that as a consequence of Nelson Mandela being imprisoned the world began to sit up and take notice of the injustices inflicted on the black people of South Africa as a consequence of the Apartheid laws.  An international campaign lobbied for his release, which was granted in 1990 amid escalating civil strife. I remember the song, free Nelson Mandela being played at many of the clubs and parties I went to in the 1980s.
On his release, Nelson became President of the ANC Mandela and led negotiations with President F.W. de Klerk to abolish apartheid and establish multiracial elections in 1994, in which he led the ANC to victory. He was elected President and formed a Government of National Unity in an attempt to defuse ethnic and racial tensions. As President, he promulgated a new constitution and initiated the Truth and Reconciliation Commission to investigate past human rights abuses. Continuing the former government's liberal economic policy, his administration introduced measures to encourage land reform, combat poverty, and expand healthcare services. Internationally, he acted as mediator between Libya and the United Kingdom in the Pan Am Flight 103 bombing trial, and oversaw military intervention in Lesotho. He declined to run for a second term, and was succeeded by his deputy, Thabo Mbeki. Mandela subsequently became an elder statesman, focusing on charitable work in combating poverty and HIV/AIDS through the Nelson Mandela Foundation.
Mandela has been a controversial figure for much of his life. Right-wing critics denounced him as a terrorist and communist sympathiser. He nevertheless gained international acclaim for his anti-colonial and anti-apartheid stance, having received more than 250 honours, including the 1993 Nobel Peace Prize, the US Presidential Medal of Freedom, and the Soviet Order of Lenin. He is held in deep respect within South Africa, where he is often referred to by his Xhosa clan name, Madiba, or as Tata ("Father"); he is often described as "the father of the nation".
Where do I start with what I admire about this man? I can't imagine being locked up for a day let alone 27 long years, yet with all that he went through he was still able to work towards truth and reconciliation for the greater good of the country and its people. Where does that amount of humility and integrity come from? It comes, I believe, an absolute belief in the goodness of mankind and wanting – at great personal cost – the best for others.
Nelson Mandela is 95 years old now, having stayed in public life until a few years ago. He is not very well and is in and out of hospital with breathing and chest problems. The world holds its breath every time he goes into hospital. To say his passing will be a loss to the world is an understatement. He gave the people of Africa and the world so much, more than anyone else I can think of.  I wish him peace and love for the last days of his life.