Phew – I just managed to make the 16:15 Leeds to London train – case, handbag, rainbow flag and a Tupperware bowl full of rice covering my iPhone (more of that later).  I sat and watched the train pull out of Leeds station and felt a real sense of joy and delight; happiness is difficult to describe but wonderful to feel.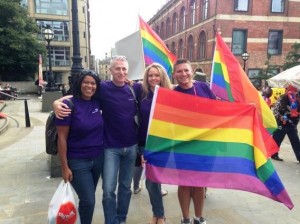 I had just taken part in my first Leeds Pride event and for those of you that have never taken part in a Pride event – you don't know what you're missing. It has to be one of the top 100 things to do before you leave this mortal coil – it was amazing. Colleagues from the NHS Employers – Personal, Fair, Diverse team had kindly invited us to join them on their bus at the event. We, James Marcus and Sophie Jones (our fantastic comms people), Head of Practice and senior team diversity champion, Dave Ashton and I were happy to take part.
We met at Millennium Square in Leeds before boarding the bus. The atmosphere reminded me of attending the Notting Hill carnival and Mardi Gras in New Orleans, everyone was up for a good time and there was a real sense of community spirit. Hundreds of people were there. The event itself made me realise that there are thousands of people out there that support inclusion, want inclusion and believe in inclusion. There are lots of people that believe in equality and want to stand up and be counted by taking part in Pride events. It was wonderful to meet and take pictures with NHS colleagues from the ambulance service, from Leeds MESMAC, SafeT and other organisations that work tirelessly for people that are viewed as and often treated as different. All showing support and solidarity with LGBT people.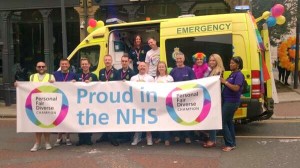 I know I bang on about the NHS constitution and I actually make no apology for it. The NHS is an organisation designed and built for all members of our society for rich and poor, black and white, gay and straight, disabled and able bodied. Our values and principles are clear – everyone matters, everyone counts. We need to make sure that all members of our population know that we really believe and live those values, this we need to demonstrate in thought and word and deed. For me, seeing and being with my wonderful colleagues who gave up their Sunday to be at the event filled me with pride and a deep sense of joy. We were there, waving our rainbow flags for all we were worth, waving and smiling at the crowds, demonstrating our total commitment and belief in diversity, accepting and valuing difference. I am privileged to be working with people who share the same values and the same aspirations for the health service as I have.
The importance of inclusion cannot, and should not, be underestimated. I believe it should be the number one priority for every NHS organisation. It's a no brainer really; a fully inclusive workforce is motivated, inspired, dedicated and committed to making a difference for patients. It works to give a fully inclusive and high quality service to everyone. It's not rocket science, its common sense.
Diversity comes in many shapes and forms, not just the obvious – and so to my rice filled Tupperware container. In my excitement of being at and taking part in the event, I dropped my brand spanking new iPhone 5 (and I love that phone) down the loo!! Horror! On returning to my colleagues, the young people I was with, James and Sophie, instantly knew what to do. I would have been at a total loss. Sophie got the information on what to do with an iPhone that was submerged from Google and James kindly asked the barman in the pub/restaurant for a bowl of dry rice! The young people knew instantly what to do. I suspect if I had been with a group of people my age, none of us would have known what to do – diversity of experience making a difference, at least for me and my poor phone.
So homeward bound to London, where I will carry my case and my handbag, my Tupperware bowl of rice and proudly (but more gently) wave my rainbow flag on the metropolitan line train home to Northwood.