Celebrating successes behind the scenes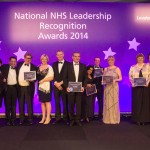 Introduction Text:
"The NHS Leadership Recognition Awards celebrate leaders at all levels of the health service who have ultimately improved patients experience of the NHS – and those we are truly proud to work alongside."
For me, the awards have been a year long process. Starting my role at the Academy in March last year, the NHS Leadership Recognition Awards were one of the first projects I was given. And I've been working on them as part of my routine work, pretty much every day since.
It's been a long process, and one that has covered almost every aspect of my job role. Starting with the design of the materials, partnership working with our regional teams, press releases written, nearly one hundred articles placed  in local and regional press and ending with event planning for the national celebrations.
There were even processes within the processes.
It's been tiring, stressful, emotional, uplifting and just about everything in between. November saw my teammates and I attending the ten regional ceremonies in all corners of the country. Each ceremony was a fantastic celebration of inspirational people who don't just occasionally go the extra mile to be outstanding leaders, they do it every minute of every day – the events were completely unique and representative of the people there.
It was an amazing feeling seeing the finalists. From student nurses and administrative staff to consultants and directors, each person nominated by their colleagues for the work they do, the impact they have and the people they are.
And if I ever doubted the importance of making these events happen (a brief couple of times, fleetingly, when caught up in the processes) my doubt left me in the instant I saw and felt the impact that celebration, reward and even just a simple 'thank you' can have on the brilliant people who make up our NHS.
In the last couple of weeks we've been receiving RSVPs to the national ceremony (only two weeks away!) and every single person I have spoken to has been excited, grateful and some, even nervous, about the upcoming event.
Being celebrated clearly doesn't happen enough.
There are 83 finalists invited to the national awards – every one an inspiration in their team, their organisation and their own right. And I've loved hearing their stories.
After working on this for a year, I feel like I know them. So I'm saying yes – the hard work and the processes that are getting us to February 24th have been and are absolutely worth it.
Each and every one of our finalists deserve to feel special – and I hope we make them as proud to be there as they have no doubt made their friends, family and teams.