Improving staff engagement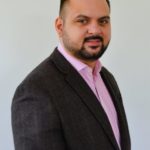 Craig de Sousa, HR director at the Tavistock and Portman NHS Foundation Trust, discusses how the Elizabeth Garrett Anderson programme helped him drive improvements to staff morale.
My first NHS leadership role was at Moorfield's Eye Hospital, where I started as an HR business partner and eventually became deputy HR director while participating in the Elizabeth Garrett Anderson (EGA) programme. I don't think anything prepares you for your first leadership role; I had some fantastic experiences developing people, but like everyone, I made some mistakes along the way, which I learned from. I've been in the NHS for 18 years and one of the things I've done is form a really strong network around me; working not only with people in the HR community but with clinical staff and across organisations. This enables me to understand their roles, how my role connects with them and where I can add value. Working collaboratively with other leaders to improve patient care has always been at the core of everything I do.
Importance of self-reflection
The EGA programme was transformational for me; I'd been in lots of leadership roles but without any formal leadership development. The programme was a brilliant opportunity to 'step up and step out' of my role to really engage properly in reflective practice and look carefully at myself, understanding what it's like to be on the receiving end of me. I found that really telling in many ways as I'd gone through a lot of my career with confidence but also degrees of arrogance.
The healthcare leadership framework was a great tool to drive forward leadership change and improvements in patient and service user care. But it also enabled me to ask myself which bits I wasn't doing so well. That was hard; it made me face up to things I didn't realise or want to recognise and the impact they had on my service, my team and my credibility across my organisation and beyond.
What got me really engaged was getting back to Moorfields and applying my learning. Working with a long-established team raised a few issues, partially because of how close knit the team was but also because the organisation was growing, so there was a need to reshape HR and take a more modern approach.
Using the EGA programme really helped me engage with my team, most notably the module on values and healthcare. There were high levels of bullying and harassment across the organisation and the programme provided the resources and skills to work on the culture change. We started this journey by having over 1,500 conversations with staff and patients about what made a great day working at Moorfields and what didn't. That led to the creation of a set of living values called The Moorfields' Way – which still resonates with me now – to be a caring, excellent, organised and inclusive organisation. Evaluation showed that 80% of staff had heard of The Moorfields' Way and 20% said it was making a difference (which continues to grow). One of the focuses of The Moorfields' Way was taking a step back and identifying how we create a really solid patient experience; taking more of an organised approach to how we manage appointments, looking at ways to support people who repeatedly use our services… In terms of the values and holding each other to account to drive improvements in patient care, this work was pivotal.
I thoroughly enjoyed my learning with the Academy; the whole experience was so well-developed. The content and residentials were brilliant and it was a great opportunity for participants to really engage with reflective practice. It's one of the things we don't always get a chance to do in the NHS because we're constantly on the hamster wheel. The e-learning platform was brilliantly detailed and the resources are really valuable. The programme also took me fully away from my role and gave me the space I needed for transformational learning.
Authentic leadership
The core thing I've learnt is that you shape the way you lead by looking at your core values. You draw from experiences of how others have done it but I don't think there's a right or wrong way of doing it. You have to be authentic to yourself and draw from your experiences of when you've seen things done well – and not so well. You use the approach that's going to get the best outcome for you, your team and your organisation. Going through the programme was pivotal to me getting my role as HR director in my current organisation as it gave me the understanding, the foresight and the reflective practice to apply.
Research shows that good leadership – both clinical and operational – leads to better patient care.  I've been fortunate enough to work in some great NHS organisations where there have been exceptional examples of fantastic leadership; you see the difference when an organisation has a clear set of values and true investment in leadership that engages in reflective practice, which ultimately leads to better patient outcomes. I've also seen it from the other perspective where you work in a more constrained environment and challenges start to emerge.
My role as a leader
What I enjoy most about my role is being able to set the strategy for an organisation. I use a lot of the learning from the programme to do this; putting it into practice at both an organisational and system level. The thing I get the most joy out of is being able to work with, develop and equip a competent and capable team that is really well-respected and engaged in the organisation. I'm also able to reflect carefully on what the organisation needs and engage with it properly. This involves understanding the clinical work that we do but also putting in place the foundations to create good leaders within the organisation (which includes me sharing some of what I've learnt).
I want people to know that leadership is important to me and that for me, being a leader is more than being a manager; it means I've got an influence and an important role in the system that I work in, be it across my own organisation or across multiple ones.
Three qualities of a good leader:
Authenticity: if you're authentic, people believe you're credible, and they understand you're not perfect. They see that you're real and the issue of perceived seniority is broken down so people engage with you. You can then work together to build something which positively impacts patients and service users
Compassion: That's what we're in the NHS for; delivering compassionate care is at the heart of what we do. Even if you're not in a clinical role, you need to be compassionate, for example to have a difficult conversation with a colleague in a kind rather than critical way
Self-awareness: In the HR profession, you see people who aren't self-aware, some of the destructive things that come with that and how it impacts teams and patient care. Having gone through the programme and having to look at myself, I got a great appreciation for both myself and why others behave the way they do
Inclusion
One of the things I'm doing within my organisation is building cultural awareness; that's one of the corner stones of tackling inclusion within the NHS, be it from a workforce or patient and health inequalities standpoint. It's about how best to engage with people, understanding why they behave the way they do, how they communicate and how they operate.
There's much more to be done in terms of tackling bullying, harassment and discrimination within the NHS – I've seen so many cases over the years. I've always been very culturally aware – I'm not from a fully English background – I'm half Portuguese; it's telling when you live in split cultural family because you see how you interpret things differently. We haven't done so well in encouraging people to understand difference and how we embrace the value of diversity. It's often the approach in British culture to expect everyone at work to behave in a white British middle class way when actually the world doesn't work like that. When people don't behave like that they often get treated with animosity or avoided because it's too difficult to engage with them or address that degree of unconscious bias in your mind.
My tips for future leaders
Look at the best way to get feedback in your organisation and engage in it properly
Encourage your staff to consider where they are in their career and what they can do to develop
Take time to better yourself through reflective practice. This might mean stretching yourself for some time but the payback for that is great, especially in building your resilience
Invest in yourself, seek out opportunities, challenge things and really think about the impact you're having on staff and patients
Find out more about the Elizabeth Garrett Anderson programme.