Sometimes it's very difficult to appreciate the thinking of others – their thought processes and beliefs are so off kilter it just makes you wonder.
It's even more surprising when those people are in the public eye. Just flicking through the news pages on my iPad this morning, I came across an article entitled 'UKIP councillor blames storms and floods on gay marriage'. What?! I know we live in a democracy, and that everyone has a right to their views, but where does that kind of thinking come from?
This person believes that the recent storms we've had are a direct result of legislation being passed for gay marriage. Read it for yourself, I think you'll be as dumbstruck as I was.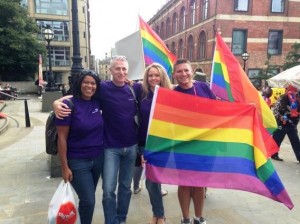 If you've read same of my blogs before, you will know that I am a staunch believer in equality, and totally believe that 'people should be judged on the content of their character and not the colour of their skin'. Judging people by who they choose to love, who they choose to share their lives with is even more incomprehensible to me and, I'm sure to many of you also. That article, along with the news this week that the Nigerian Government had passed laws prohibiting gay relationships made me think seriously about the issue of being gay in today's society. It's still not easy.
Clearly not everyone thinks the way we do, and everyone has a right to be respected and valued for who they are. It is strange to think that some people and indeed whole countries don't hold those views.  We have come a long way since amazing people like Alan Turin, the World War Two code breaker, and the man said to be the father of the modern computer, prosecuted for having a gay relationship – but we still have a long way to go.
Last week saw the publication of the Stonewall Top 100 Equality Index. I was delighted to see many NHS organisations in the top 100. Well done to Nottinghamshire Healthcare Trust for being in the top five. I am determined that my organisation will be in the top 100 in the near future. Actually, I believe it already is – we just need the documentation and evidence to prove it!
There is a lot of good work going on to raise awareness of the bias, discrimination and prejudice faced on a daily basis toward LGB and T communities. It is hard to believe that in 2014 we are still in this place. The NHS Constitution, the charter to which we as NHS workers have signed up to, states quite clearly in its first principle that:
"The NHS provides a comprehensive service, available to all irrespective of gender, race, disability, age, sexual orientation, religion, belief, gender reassignment, pregnancy and maternity or marital or civil partnership status. The service is designed to diagnose, treat and improve both physical and mental health. It has a duty to each and every individual that it serves and must respect their human rights.
At the same time, it has a wider social duty to promote equality through the services it provides and to pay particular attention to groups or sections of society where improvements in health and life expectancy are not keeping pace with the rest of the population."
I don't think these two paragraphs could be clearer; all of us, regardless of grade and profession have a duty to support and care for people regardless of their background. That goes for staff as well as patients.
We want an NHS that is the best in the world at delivering healthcare. We also want it to be an exemplar when it comes to equality, dignity and respect for our fellow human beings.
I am proud to say that my organisation, the NHS Leadership Academy, is a Stonewall champion. My colleagues and I are committed to ensuring we have an organisation that values everyone for the unique talents they bring.
Ultimately, it is not only the sensible thing to do; it is the right thing to do by our patients, staff and our NHS.