Ovarian Cancer: Nuala's story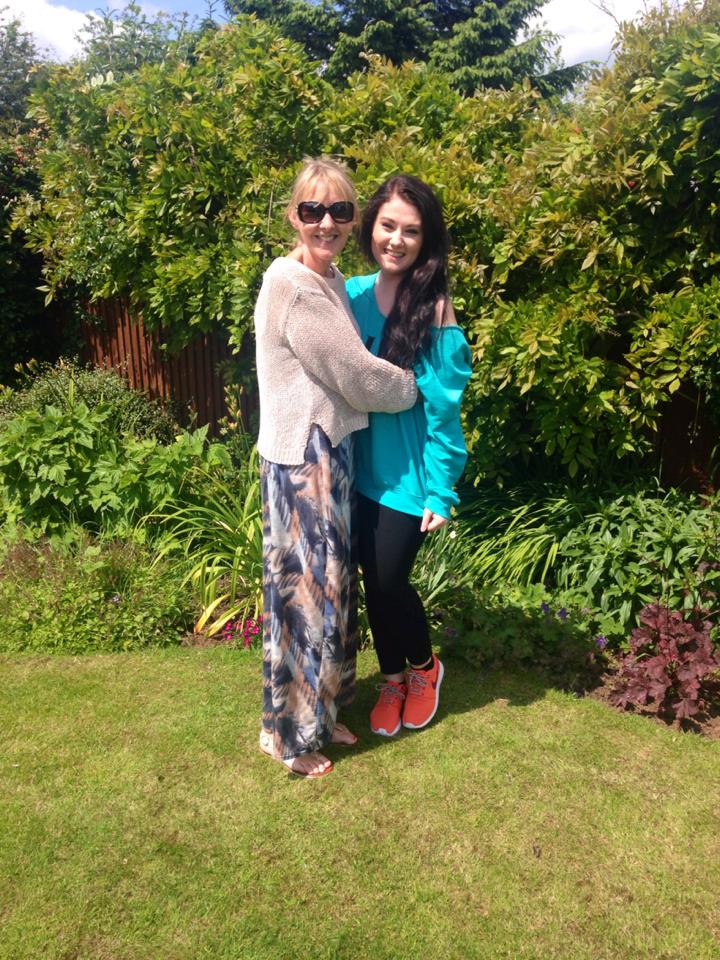 As part of Ovarian Cancer Awareness Month, Nuala Doyle, Marketing and Engagement Assistant at the NHS Leadership Academy, shares her personal experience. 
My Mum was always my superhero. She checked for monsters under my bed, helped me with my maths homework and wiped the ice cream off my face when I managed to get it in my eyebrow. She put up with my stroppy teenage years, smiled through the 'blue eyeshadow and glitter' phase and reminisced over her own youth while I strutted my stuff in footless tights. Depending on your own experience, you always imagine that your Mum will be one step behind you for everything life will bring; not just the big events like weddings and kids, but for the little things like learning how to use a washing machine when you run out of socks or how to cook anything other than beans on toast.
Cut to one night in late May last year when my Mum, Fiona (but Fii for short), felt a lump on her neck when she pulled her duvet up to go to sleep. She got it checked immediately, thinking she had developed lymphoma, but was confident she'd caught it early enough and was hopeful. Unfortunately, neither she nor the doctors had looked deeper in to her back pain or recent weight loss. She had always had a bad back, due to 15 years of nursing, which regularly flared up. She had also torn the cartilage in both hips which meant she couldn't continue with her five-day-a-week gym routine and had lost a lot of muscle mass. When she went for her scan, she was told that the lump in her neck was actually secondaries in the lymph nodes that had also spread to her liver and bowel. She had a mass in her ovaries the size of an orange which had been quietly growing for about 18 months. Fii bravely fought her way through 18 weeks of intense chemo therapy, and despite an initial good response, the cancer was too aggressive, and on 14 November we were told she had weeks or months left to live as the cancer had spread further to her lungs and spine. Sadly things went downhill much quicker than expected and she passed away 11 days later at home in bed surrounded by our family, her six best friends and our dog Dougie.
Cancer. A word so small it takes less than a second to say, but so powerful it can change your whole life. It can rob you of time, your well-earned future experiences, memories you've waited your whole life to make and all you've ever dreamed of seeing or doing.
It's a cruel and cold hearted disease that lurks in the shadows and attacks whoever, wherever and whenever it chooses. We've all seen the Cancer Research adverts on the telly and put a few pounds in the tin on the Macmillan coffee morning. We've laughed and cried at the Stand Up to Cancer shows and may have even put one foot in front of the other enough times to complete a marathon supporting those affected by it. Cancer is around us all the time, but it's something we never dream will affect us or our family, even though statistically one in two of us will develop the disease at one point.
Ovarian cancer is known as the 'silent killer' as it doesn't always show symptoms in the early stages, and when it does they can easily be mistaken for something else. Feeling bloated most days for three weeks or more is a common sign of ovarian cancer, but other symptoms include:
Feeling full quickly or loss of appetite
Pelvic or stomach pain
Needing to wee urgently or more frequently than normal
Changes in bowel habits
Extreme fatigue (feeling very tired)
Unexplained weight loss
Before June 2016 I'd never paid attention to Ovarian Cancer Awareness Month, or any other cancer awareness month for that matter – except Movember, which was more to do with the Ned Flanders inspired moustaches that swept the nation. But my Mum made us promise to raise awareness of the symptoms so that hopefully others wouldn't be as unlucky. That's why I'm sharing the Target Ovarian Cancer's 'Start Making Noise' campaign. The current five-year survival rate for ovarian cancer is 46 per cent. If diagnosed at the earliest stage, up to 90 per cent of women would survive five years or more. So go and make some noise; tell your Mum, your sisters, your aunties, girlfriends, wives and friends about ovarian cancer, tell your GP if you've noticed any of these symptoms. Make some noise, it could save a life.