A personal story of Black History within the NHS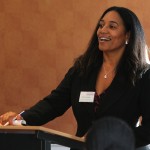 As Black History Month comes to an end, Morvia Gooden, senior programme lead at the NHS Leadership Academy, talks about her personal experiences of racial inequality in the health system and how the Academy is working to change this culture across the NHS.
This year marked my 34th year in the NHS, an accomplishment I am immensely proud of, but this could have been a completely different story. My parents were of the Windrush generation who came to England in 1960, age 19 and 24 with a spring in their step and a song in their hearts. As they walked the streets searching for hope they were instead met with adverts displayed in windows asserting, No blacks, No dogs, No Irish.
My mother became a nursing auxillary in the NHS working the night shift, to enable my father to work in a factory during the day, so that she could care for us whilst he was at work – when she should have been asleep! As small children, my three brothers, sister and I would wait for what seemed an eternity for my mother to return from work on Christmas day to reunite as a family, enveloped in a magical mixture of love, warmth, reggae music and good food, against a backdrop of the exceedingly tangible external hostility to our very presence in the country.
As a kid, I also fondly remember the times when I used to sit on the floor with my siblings watching the 6pm news with my family, not out of choice, but as a reason to stay up late after Zebedee on the magic roundabout had announced to all the children that it was time for bed. Whenever the newscaster announced that there was a robbery, my immediate thought was, 'Oh no! I hope the perpetrator is not black' however when the announcement was made about an individual successfully reaching a mountain summit, I instinctively knew they would not be of black origin.
Now years later as an adult I realised that the same unconscious messages that the dominant majority had perpetuated via the media and institutionalised throughout their organisations, I as a black woman had also absorbed them into my psyche, resulting in a drip effect of knowing that I'm not as good as my non black, Asian and minority ethnic (BAME) counterparts. However this didn't affect my decision to enter the NHS in 1982, as I was very clear about my capacity and quest to practice compassion and care, although naively unaware of the barriers I would encounter along the way.
During the recruitment procedure, I was fortunate to have the guidance of my mother, when unexpectedly; I was steered towards the inferior rank of State Enrolled Nursing (SEN) as opposed to State Registered Nursing (SRN), despite having more than sufficient qualifications. In 1988 following my successful entry to commence my midwifery training, I was taken aside by the white ward sister, who dutifully informed me of the fact that black students were brought in for the numbers and disposed of during the period of the training.
Whilst I was nurtured by a plethora of BAME senior ward sister level nurses, also from the Windrush era, I also witnessed their en-masse disappearance from employment once nursing regained popularity and momentum. This realisation of disparity only occurred to me when I undertook The Breaking Through programme in 2008. I didn't have an 'a-ha moment', it was more about having the time, space and permission to explore my personal journey through my career, identifying any obstacles perceived or real on the journey.
This happened at a point in my career when I felt that I was in a box with the lid loosely in place. I had a manager who was happy with my work and happy to see me stay just as I was, a conformist black woman eager to fit in therefore maintaining the status quo. I also had a colleague who was on the same grade as me, the difference being she was a non-clinician. In her attempt to anchor her position she constantly told me that she was the strategic manager and I was the operational manager. Again the drip, drip effect came into play that I'm obviously unable to operate strategically.
The Academy originally delivered The Breaking Through programme aimed at supporting BAME colleagues to develop their knowledge and skills to help them progress further on their leadership journey. Breaking Through allowed me to explore my potential in ways that were supportive and developmental. One particular breakthrough moment came for me when we had a session on strategic thinking.  Prior to that session I thought that strategy was only for the elite selected few who sat at the top of the food chain; however the facilitator got the group to realise that strategic thinking is a mind-set and how great innovators had all been strategic thinkers through basic thought processes, which allowed me to give me the permission to believe that I too can be a strategic thinker.
When I was on the other side of the fence as a patient, undergoing intensive treatment, I was saddened to experience exclusion on the basis that I was denied access to critical information by ward staff, thus plunging me into a state of verbal paralysis as a vulnerable patient.  Many would assert that in England we have come a long way from the 'Rivers of blood' speech by Enoch Powell in 1968, criticising commonwealth immigration and attempts towards anti-discrimination. Things have moved a long way since then in legislative terms, we now have the 2010 Equality Act protecting the rights of individuals and advancing equality of opportunity for all.
Despite this legislation we are left baffled and deeply concerned by the research and statistics surrounding 'Snowy White Peaks' (Kline, 2014) which fundamentally highlights the position of BAME staff within the NHS, including the visible lack of representation in senior positions. Despite having policies and procedures in place, and the advent of the new Workforce Race Equality Standard (WRES), we must also consider how together, we can make sense of and then dismantle both conscious and unconscious bias, coupled with micro inequities which continue to work towards promoting inequality of opportunity for BAME staff and patients alike.
Doing the Breaking Through programme was a pivotal moment in my life as it enabled me to question all the other false impressions I had constructed about myself, i.e. I'm not good enough to lead, other people were obviously more knowledgeable than me, I can't possibly be a public speaker, no one will be interested in what I have to say as I'm not senior enough. As a participant it was important for me to see other likeminded colleagues, who were successful, BAME, and shared the same experiences of exclusion.
This inward looking strategy helped me to examine how I am experienced in my environment, spotting misaligned perceptions, changing my internal narrative, reflecting on the choices that I was making and turning my adversaries into positive springboards for self-development and action. This enabled me to make real choices about how I choose to behave in any given situation with an enhanced and more effective leadership behaviour. I am now no longer afraid to tread outside of my comfort zone; I am also able to convey positive messages to others in a transformational way, due to my increased confidence and acceptance of all of who I am.
As a Programme Lead for the Academy, I feel privileged to be in a position to facilitate others to grow and shine. Moving forward I hope the NHS BAME staff, like me, can dare to hope for a better future which is possible and probable as we collectively work together to transform the story of Black History within the NHS.
The Academy's Ready Now programme is here to help aspiring senior BAME leaders realise their potential. It's been designed to improve patient care by utilising and unleashing the talents of these colleagues. For more information about the programme visit the Academy website.