I recently hosted our first annual global leadership conference, sponsored by KPMG. This event, primarily for our programme alumni, was designed to be an extension of our leadership learning for those who have already embarked on their learning journey with us. We drew together some exceptional speakers, bringing to life the idea of learning from others globally while sharing what the NHS can do to help others. My short reflections are here.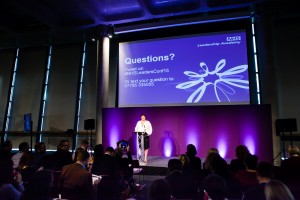 The conference was opened by Dr Mark Britnell, chairman and partner for global health practice for KPMG. Mark must have a unique perspective on the shape of health care around the world. I am not sure there is anyone who is as well travelled, well connected or insightful in terms of the different systems of health care internationally. From developed to developing countries, from universal coverage to the absence of meaningful levels of basic care, he has a fascinating view of what works and what doesn't. He shared with the audience the headlines from his book which gives a snapshot of his knowledge and commentary.
What did I take from this session; we need to be eclectic and curious in where we seek our knowledge, ideas and learning. The danger is to look to the familiar – North America and certain parts of Europe are familiar friends and definitely have some things to teach us. But there is as much learning from systems that look very different to ours, in cultures radically different to ours and with a history of care that comes from a very different philosophical base. No ideas are immediately transferable, no systems do everything we do but better, and whether that means us making sure we increasingly have a global mindset when we think about finding new solutions to intransigent problems, or about cherishing the fact that we now have an expanding global community of leaders in health who are facing some of the self-same issues we are, we do indeed have something to teach and something to learn.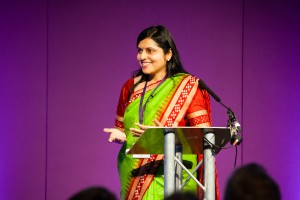 Mark was followed by Dr Preeti Kumar, director of training division at the public health foundation, India. Her introduction gave a fairly whistle stop – but nonetheless hugely informative – insight into healthcare in India. They are currently faced with a disease profile that reflects both the extreme poverty and growing affluence of different parts of the enormously diverse, rich culture which she described as a 'cauldron'. They have a population of over 1.2bn people, a GDP of around 1.8trillion USD an economy that has defied international averages and continues to be in growth and despite this spends around 0.9% GDP on health. The vast majority of funding for health services comes from out of pocket expenses so even though many families are now moving out of poverty given the growth in the economy, many are also being plunged back into poverty through medical care costs. Preeti gave a great summary which I won't try and replicate and then went on to talk about the opportunities, the agenda and some of the lessons we could consider together.
What did I take from this session; necessity has created some really creative ways of thinking about healthcare provision that we could certainly learn from. The most stark for me was the more routine engagement of communities in developing and providing care – expanding the notion of who the healthcare providers are to include patients, carers and communities seemed both enormously pragmatic given the challenges they face but also hugely refreshing in terms of designing truly patient centred care. Preeti also showed some technology they are using to help people test and monitor their own health status at home, again developed out of necessity but providing extremely responsive care that gives ownership back to the patient. Mostly though I think I learnt from Preeti. She faces challenges that seem almost insurmountable to me but remained in the face of that optimistic. Her optimism was not just about the opportunities that do exist but mostly about her approach to humanity. She started all her thinking from an appreciative perspective, and her resilience inspite of the challenges she faced reflected that. Quiet, humble, witty and effortlessly bright she showed me a model of leadership we could really do with more of in the NHS.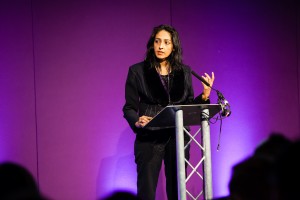 Our third guest plenary speaker was Buurtzorg researcher and innovator, Dr Sharda Nandram. Sharda talked about the organisation she works for, their approach and the background to why and how they do what they do. She talked through the way the organisation worked but also about the culture of the organisation and the impact the organisation had on patient and community care.
What did I take from this session; Sharda didn't pretend that their organisation, as successful as it was, was down just to a different way of managing the work and creating a different if interesting organisational structure. The key she kept going back to was the unifying purpose that Jos de Blok, their founder, had created and maintained. The structure has been organically developed to respond to the needs of the work, it hasn't been created to artificially try and force a way of working on people. Staff work in the way they do because they buy into the unifying purpose, are engaged in the work, see the impact of the work and have autonomy and independence. The organisational structure serves that rather than creates it. So often in the NHS we introduce structure change; team, organisation, system, national level as a way of trying to change ways of working rather than understand the structure is just the wire frame that sits around the way the place actually works. If we want to extract the maximum learning from Buurtzorg it isn't to focus on the interesting organisational structure it is to think about what makes the place work and be curious about what we can take from that and learn about in our own practice.
Our final plenary speaker was Lord Nigel Crisp, co-chair for the all-party parliamentary group on global health. Nigel shared his working knowledge on the systems of care in Africa and in other developing geographies. He talked about the globalisation of health and health care, the contribution the UK could make to developing countries' systems of care and some specific pieces of work he had led into issues which are common across all health systems, including skill mix change –what works and what doesn't. He also talked as Preeti did about the creative ways you can engage communities in not just being part of but leading the provision of health care.  It brought to life the idea of a much more inclusive vision of humanity as whole beings whose health is just a part of who they are in the world.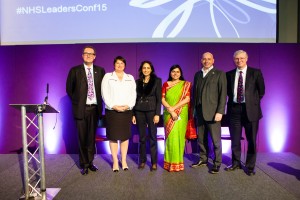 What did I take from this session; Nigel was deeply knowledgeable about his subject and particularly his slide on the necessary preconditions for successful changes to staffing were simple, evidence based but showed his very real understanding of people and of leadership, wherever we are in the world. He spoke proudly about what the UK has to offer on an international stage, citing the academic excellence that we too often take for granted. I was struck too though about his continuing own learning and his humility in learning from people in less developed nations. With the background and career achievements he has you might have expected him to be arrogantly lecturing on what to do and not to do, he was instead warm and open to learning from others. That continuing approach to developing our own thinking, being open to learn from the experiences of people very different to ourselves was a common thread from our speakers.
At the beginning and end of the day I prompted people to think about engaging with the day not just as a series of really interesting stories but as a series of provocations to think about their own practice, their own behaviour and particularly of what they can take away that they can immediately implement. I think I learnt about my own sometimes rigid thinking, patterns of behaviour that have me paying more attention to learning from some people rather than others, taking for granted that which we already have which we don't treasure enough and of what happens when we start thinking about the health care provider team having a much more inclusive definition – how we truly include patients, carers and communities as owners of their health.
This was only our first global conference. I look forward to many more.