Resilience – and why it should not be essential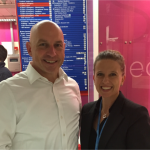 In his latest blog, Chris Lake, head of professional development at the Academy, discusses how resilience has become a sought after quality in NHS leadership and questions whether this should be the case.
I've been running a research project recently. It's pretty raw stuff, so those of you who favour the scientific validity of a randomised double-blind control trial can look away for a moment. Think more along the lines of a straw poll. I've been asking NHS colleagues, participants on NHS Leadership Academy programmes and NHS staff I bump into around the country the same question: 'What are the top three human characteristics you think are most important to work in today's NHS?' Want to know what the most quoted characteristic is? Compassion? Empathy? No. It's resilience.
Resilience is the quality that allows people to flex and adapt to the inevitable winds of life, to be knocked down and to come back rather than letting lumps and bumps overcome them and drain their resolve.
It's an often requested topic when we ask people what workshops or resources they might find useful as part of a wider programme of leadership learning.  It comes up when heads of organisation development review staff surveys and ask themselves what they need to offer their employees to support them in the face of results that show stress is up, morale is down, sickness rates are worrying and people are considering leaving the NHS in greater numbers than ever before.
I've been asked to speak on the topic of resilience – and how to develop it – at the upcoming HSJ Emerging Leaders Summit in November. It was requested as a topic by the (bright eyed, full of hope, future-focused) emerging leaders themselves. Of course, we need to do something for our staff. People are experiencing stress and pressure, and it's our responsibility as organisational leaders to do something effective in response. But is a short training event or online resource the right thing to do? I'd say no. Such interventions are known to make very little difference. More though, surely our organisational response should be more about dealing with the source of the pressure rather than teaching our staff strategies to survive it?
The rather bleak analogy I've been using recently is this: if you find yourself being hit repeatedly with a stick, do you want the source of your pain to offer you some padded clothing so they can carry on or maybe even hit you harder? Or, do you want them to stop beating you? I'm not denigrating resilience as a good thing to have, but the fact that our system requires it in such high volumes is a bit of an indictment of the culture. Wouldn't it be better to lead organisations where resilience was desirable rather than essential?
At least once a year I shadow an NHS colleague who works at the frontline, to experience first-hand the culture and climate of at least their corner of our NHS. I used to call it a 'back to the floor' experience until a 25-years-in-the-NHS-nurse (my sister actually) sent me a sweet-but-pithy text saying, 'Brother, you can't go back to somewhere you never started from!' She's right – my early career was in retail and I've spent the last 20 years as a leadership and organisation developer. I've always learned loads on these outings as I follow the daily experience of someone working at the sharp end of NHS services. That said, three colleagues (including that sister of mine) challenged me again: 'Stop glory hunting and spend a day with someone in the core of the NHS!'  (I think they were referring to a previous not-back-to-the-floor nightshift I did dressed in orange in fast response cars with the London Helicopter Emergency Medical Service team). In line with my developing thoughts around resilience, I took their challenge and looked for someone in a suitably demanding role.
So, last Monday I arrived at Charing Cross Hospital and met Merlyn Marsden – site director at Imperial College Healthcare NHS Trust. I'd already swapped some emails with Merlyn – she told me to wear comfortable shoes! Merlyn has a massive job. She and her team are responsible for the allocation to wards of all patients who come into the Trust's five hospitals as either emergencies or planned admissions, and for the smooth and logical flow of these patients through the hospitals, anticipating problems and responding with a mix of care and urgency. Also in Merlyn's portfolio is hospital security and patient safety, estates, liaison with the London Ambulance Service regarding emergency intake capacity, and so much more. She leads a team of around 40 people, not from a remote office, but from operations rooms at the heart of two large and complex hospitals, and most often from the wards, stairwells and corridors of one of the largest NHS Trusts in the country.
This particular Monday morning, the Trust was coming off a challenging weekend – full to capacity across all wards and a full Accident and Emergency department working beyond capacity. I'd found the right place to experience where resilience was needed!  First up was a multi-site virtual meeting where Merlyn and her team scoped the detail of bed availability (none), likely discharges (too few) and potential discharges (only a few more). Next we were off around the hospital where Merlyn skilfully facilitated a series of face-to-face meetings between matrons. 'Who's got capacity?' 'Who needs help?' 'Who can offer some (scarce) resource?'
As the day progressed my admiration for Merlyn blossomed from good to great. She works right at the nexus of pressure in an NHS system that's working beyond capacity and beyond resources, and squeezed by climbing inbound demand with falling resources in social care to support outbound patient discharge. All her efforts were focused on helping the hospitals do two things: work at maximum efficiency, and work with care and compassion. Throughout the day these two objectives often appeared to jar – yet Merlyn managed the tension with aplomb. I was touched by the way that she walked (quickly and purposefully) between wards, she'd stop and help anyone that looked like they needed it, pick up bits of litter, stop and give directions, redirect people heading for the (out of action) escalator towards the stairs, and redirect patients using crutches away from the stairs and to the lifts. She was always 'on', flipping from emails on her smartphone, to calls, to patients, to ward managers, to her bed managers, to nurses, to doctors…even to the BBC film crew walking the corridors making a documentary about the pressures and processes in the NHS.
Merlyn was the absolute model of resilience.  Take a look at the picture of us both at the end of her 10-hour shift – she's wearing the same engaging smile that greeted me at the start. Both Imperial hospitals I visited were great – filled with staff focused on delivering the best care they could. But they, like Merlyn, were working uphill into a headwind: the pressure endemic at the sharp end of a healthcare service suffering from 10 years of flat-line funding (down to 7.4% of Gross Domestic Product in comparison to say France or Germany at around 11%), demand increasing by 4% a year, ever-higher patient expectations, a social care system starved of funding, and a management culture of demand and command rather than compassion and care.
As I walked home that night I was left with the overriding thought that, I was immensely impressed at Merlyn's resilience and talent and so thankful for all colleagues across the NHS who, day-in day-out, bounce back and deliver such great care. I'd rather they didn't have to. I'd rather we had properly funded, brilliantly led organisations characterised by care and compassion that were really fit to house the human spirit.