"Nobody should be scared to talk about race and diversity."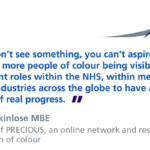 Foluke Akinlose MBE is the founder of PRECIOUS, the leading online network and resource for women of colour. Launched in 1999, it was the first digital publication of its kind to launch in the UK. In 1997, Foluke launched the annual PRECIOUS Awards which celebrate the achievements of women of colour in business and leadership. Foluke was awarded an MBE for services to the creative industries in 2010.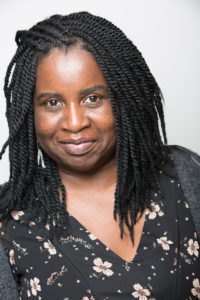 I launched Precious because when I was a little girl I loved magazines like Smash Hits and Just 17, but I never really saw any women or girls of colour within the pages; it was as if we were invisible. When I was about 10 or 11 years old, I made a vow to myself that I was going to launch my own magazine. I wanted to start talking about black success stories and other things like black hair and beauty. What blusher or lipstick matched black skin tones, that sort of thing. It didn't exist in those days – we just didn't see it at all. So that was my motivation really – my childhood dream – and I never lost sight of it as I moved into adulthood.
I started my career doing quite menial jobs. I knew I wanted to be a writer – more specifically a journalist – but I was always told no. My careers advisor openly laughed at me when I told him; he thought it was hilarious that I could even think about writing for a living. He told me that I shouldn't have such lofty aspirations and that I should be a nurse. After all, my mum was a nurse wasn't she? I told him I couldn't be a nurse because I couldn't stand the sight of blood and he just said: "You'll get over it". That was my careers interview. As I got older and my career progressed, the lack of black representation in the media became more and more evident.
I went to university in my twenties to do my degree in history, then a post-grad in journalism. Then I started to get serious about the magazine. My business advisor asked me why we needed a magazine for women of colour; he just couldn't understand what I was trying to do. Even when I launched the magazine I was still being told I couldn't do it. As I didn't have access to pots of money to launch my own publishing company, I launched PRECIOUS online. That meant I had to teach myself how to code, which then was a male-dominated activity. It did feel impossible at times but it also made me even more determined to do it.
Progress
I think there has been progress since I was starting out but it's been very slow. There are now more magazines for women of colour. They are more outspoken than we were at the beginning, which I love. I think more young people are motivated to use technology to launch their own media, which is brilliant, as is the increase in choice.
In terms of progressing in industry, I think it's still difficult. Digital media is quite colour blind in a way, so if you have the skills you can get on, but in the more traditional media progress is often blocked. There are still no people of colour editing national newspapers in the UK.
In terms of the NHS, I have a sister and a brother-in-law who've both been in the NHS for nearly a decade and constantly tell me stories of them and their friends being overlooked for promotion, especially in non-clinical roles. They feel very demotivated and demoralised. They want to progress further in their careers but they feel held back by senior colleagues who just don't give them a chance, and they see people who have less skills and experience being promoted, which is hugely frustrating.
At the moment diversity is very much on the radar; I've heard about a couple of high profile corporate initiatives which encourage people to be more open, extending the diversity conversation to race as opposed to just gender. There's also the whole conversation around white privilege, which hasn't previously been spoken about but has obviously been felt by so many people of colour. But this is not enough. I think the conversations are getting louder, which is critical because everybody should be involved – nobody should be scared to talk about race and diversity.
In terms of the NHS, I think there should be a strategy to ensure that people of colour have equal access to opportunity. We need to increase the visibility of those in senior roles and it's really important that they're being seen to lead a team. It's about ensuring everyone's got an equal opportunity to apply for roles and recognising that some people start in a much more disadvantaged position than others. There should be consideration about where jobs are being advertised. Not everybody reads the Telegraph or the Guardian – the NHS needs to be more diverse in how it promotes opportunities. Isn't simply talking to people part of the mix? Having conversations in the workplace and knowing people have got someone they can talk to about progression sounds simple but is so critical.
If you're a black woman with aspirations to progress to a senior role in the NHS but like me, you're faced with barriers, keep going. Get a mentor; someone who can guide you either in the NHS or outside. Challenge your leadership community; go to someone and tell them you want to take up an opportunity based on merit, nothing else, and say you want support.
If you don't see something, you can't aspire to it, so we need more people of colour being visible in prominent roles within the NHS, within media and within industries across the globe to have any chance of real progress.