Being the change you want to see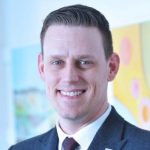 Giles Thorpe, a Nye Bevan programme graduate and deputy director of nursing & quality at Colchester Hospital University NHS Foundation Trust, shares his experience as an LGBT+ leader, and the leadership behaviours that have supported his journey.
Having just seen some colleagues and friends complete The Nye Bevan programme it made me think back to my time as a 'Bevanite' (once a Bevanite, always a Bevanite). I particularly remember presenting my timeline to my learning set; it was painful, but strangely liberating at the same time.
I then listened to some of the most powerful and heart breaking stories in my life. Sitting in a room with senior NHS leaders who had gone through heartache, sadness and pain was probably one of the most humbling experiences I've had. It showed that we all have vulnerabilities, we have all been affected by life and it shapes who we are.
I always knew that I was 'different' – at the time I didn't know that meant I was gay. Growing up in a very rural area meant that discovering my own sexuality was something that became hidden, secretive and not to be talked about. Thankfully, I was supported by my family and friends who accepted me for who I was and saw my sexuality as a part of me. I'm engaged to a man – that doesn't define me as a person, but it forms a key part of who I am, and I'm proud of who I've become.
I'm very proud to be a nurse (another part of who I am) and have witnessed the best and worst of humanity. I've seen and been on the receiving end of prejudice by many different kinds of people – patients, relatives and other NHS workers and leaders.
I'd like to say that I've always been a staunch defender of equality and diversity and stood up to all prejudice – but I can't. Sometimes in the quiet of the night I've thought 'is it me?'  Being attacked for who you are affects you, and it hurts.
As a senior leader in the NHS (when did I become a grown up?), I have been afforded the opportunity to supervise and mentor staff across the NHS, many of whom are LGBTQ+. To help them see that they don't need to hide who they are, and watch them grow has been a personal achievement. Personally, I tell people I'm gay if asked and offer the information if they look like they want to ask. I used to be worried about the question, now I welcome it.
I read the NHS constitution routinely and remind myself why I work in healthcare. Principle 1 – The NHS provides a comprehensive service, available to all – irrespective of gender, race, disability, age, sexual orientation, religion, belief, gender reassignment, pregnancy and maternity or marital or civil partnership status.  As they say on The Nye Bevan programme – 'what's it like to be on the receiving end of you?'
You need the space and time to reflect and understand any form of prejudice is not acceptable – there are no ifs, buts or maybes. Combine this with a network of support (you can't always do this alone) and you truly can 'be the change you want to see'.