Introduction Text:
I've been wearing my 'Proud of the NHS Badge' for a few months now.  One of the things I love about wearing the badge is how it sparks conversation, thoughts, debate and more importantly how it makes me continually remind myself, and others, of why I'm proud of the NHS.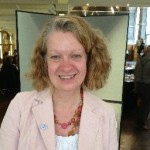 From fellow bus passengers, shop keepers and the NHS staff that I meet in my day to day work – each conversation sparks a different thought or feeling. I've had a few off-loading moments, tales of woe and waiting times – but just as many positive and thumbs up for the NHS.  I love listening to all the stories of how the NHS touches all our lives in some way, whether as patients, carers, friends or colleagues.
These instances began almost immediately; I had just pinned my badge on in the office and was on a crowded train home, standing in the middle of the coach in the aisle with many others hunched up together.  A music teacher and I start chatting – always a bit surreal standing up in the middle of a carriage very close to someone you've never met before and feeling like all those around you are listening to your conversation– and fairly swiftly into the conversation I was asked 'So why are you proud of the NHS'?
A feeling of being proud isn't something that is achieved lightly and without a sense of hard work, commitment and recognition.  Not being on the front line working directly with patients often makes it hard for me to make sure I am making a difference to patients, something I imagine many in support services struggle with.  So what holds me?  Two thoughtful, humbling experiences clearly highlight why I'm proud of the NHS.
At a funeral service for a dear friend, I was still wearing my 'Proud of the NHS Badge' and a friend said to me you can take your badge off now, you're not working' and as I went to take it off I realised that I didn't want to do this.  Working in the NHS can frustrate me as much as it inspires me but it's under my skin, a part of me and my values.  I believe in it and especially the people who work in it.  I kept my badge on. I'm proud of the NHS and the people who work in it because it isn't always easy and although we don't always get it right, we often do.
This was further summed up for me by my 10 year old son recounting his experience of the NHS when he was just 5 years old: 'Mum do you want to know why I'm proud of the NHS?  Well I'm not proud of that long wait in the out of hour's hospital in the middle of the night – but I'm really proud of the doctors and nurses who saved my life'.
What makes you proud of your NHS?