Introduction Text:
Sarah Baker, the senior sister in charge of Orthopaedic Theatres at the James Cook University Hospital (part of South Tees Hospitals NHS Foundation Trust) is urging nurses and midwives in the north east to take advantage of a free development opportunity being offered by the NHS Leadership Academy.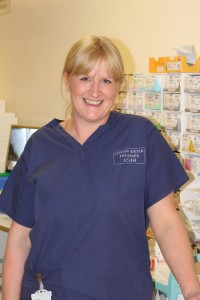 The Frontline nursing and midwifery programme is part of the largest investment into leadership the NHS has ever known.
Sarah, who has worked in clinical theatres for 12 years, has (herself) been on the Academy's senior operational leaders nursing programme, and is already finding her learning is improving her leadership, the impact she has on her team and vitally, patient care:
"I found my programme really motivating – the support and the opportunity for personal development from the programme was challenging and but also invaluable," she said.
"I now feel able to create an even more positive working environment. If you can do this alongside the development of strong relationships and clinical engagement, everything else will readily follow. I believe this ultimately results in the best care possible for patients.
"This course has given me both the time and the confidence to positively develop in my role and help to drive forward the service we provide here in theatres.
"I'd absolutely recommend the new Frontline programme to other nurses and midwives. It's so worth your time, and will ultimately help to improve patient care."
Delivered by the NHS Leadership Academy, the Frontline nursing and midwifery programme will support 5,000 nurses and midwives to do the job they love even better and increase their influence on how care is delivered. The first cohort for the north east region is in Durham, and starts on 12 May. Once all the places are allocated on the Durham cohort, another will open in the region. Places are also currently available in Leeds.
Delivered over six months and taught through a mix of online learning and face-to-face workshops, the development programme aims to support participants to be the nurse or midwife they want to be. It will help them to develop the skills needed to reflect on their strengths, role and their ability to do what they came into the profession to do – make a difference to people's lives.
Karen Lynas, deputy managing director of the NHS Leadership Academy said, "Nobody makes more of a difference to how your health care feels than the frontline nurses and midwives who look after you.
"I am so pleased we are able to offer this programme, designed entirely for them, to support them in their crucial role, develop them to be even better at their job, and importantly, to have more influence in how our care is delivered.
"I hope that thousands of them will seize this opportunity which will make a real difference to patients, carers and our communities."
The programme builds on the success of the previously nationally delivered nursing and midwifery leadership programmes, incorporating online learning with face-to-face sessions delivered regionally to be accessible to a many nurses and midwives as possible.
Places are free and are allocated on a first-come, first-served basis so to find out more and apply, visit the NHS Leadership Academy website: www.leadershipacademy.nhs.uk/frontline