Pride, Power and Personal Branding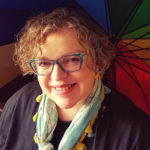 Bobbie Petford, Elizabeth Garrett Anderson graduate and organisational development practitioner at Walsall Healthcare NHS Trust, talks about pride and power and how we might reflect on our own personal branding.
Last summer, the LGBT+ Pride season and the BBC's Gay Britannia series was the most conspicuous celebration of LGBT+ culture in all its glittering rainbow fabulousness ever. Yet this shift towards acceptance of being out and proud seems to have evaded the NHS.
In past tweets and LinkedIn posts, the NHS Leadership Academy noted that 'the number of LGBT+ colleagues in the NHS is underreported' and asked 'why do people feel afraid to be themselves in the workforce?'. In Tracie Jolliff's blog, she cites the 2015 Stonewall report 'Unhealthy Attitudes' and says 'no wonder so few people from these groups disclose their identities at work, we might all possibly do the same.'
To answer these questions we might usefully reflect on the culture of the NHS workplace, one facet of which is acceptable appearance, dress code and presentation. Obviously many of us wear uniform for reasons of hygiene, but it still is Eurocentric and military in style with its colour-coded epaulettes and stripes. Personal branding is much discussed in leadership circles within and beyond the NHS. To be successful, writers advise the adoption of 'power poses', resonant voices and sharp office dress. An internet image search for a 'successful professional' will turn up a plethora of stock photographs of slim, young white people in crisp tailoring and shiny shoes. The artist Grayson Perry described the appearance of the dominant (white) narrative of conventional authoritative masculinity as 'Default Man'.
Look around your own department, and check out the dominant dress. Patent leather shoes? Floral dresses? Blue suits and brown shoes? What is the variation? Who dresses differently? How are they thought of? How do the people with real power in the organisation dress? Are they the Chanel Ninjas, Patentistas and Cufflink Boys?
The BMJ ran an article about doctors' dress following the demise of the white coat that proclaimed 'having people walking round wearing all sorts is seriously de-professionalising'. The BMA recommends dressing 'in a manner which is likely to inspire public confidence'. Should we stop to ask what we mean by looking 'professional' and ask who is deemed to meet this standard? Does this promote homogeneity of being; a monocultural hegemony of office uniform; a normative code from which any transgression is frowned upon? Does it exclude people of other identities, cultures and sub-cultures? NHS Employers warn against discriminatory dress codes. Chris Oliver, chief operating officer at Mid Cheshire Hospitals NHS Foundation Trust, said in his blog that "the NHS benefits when staff can bring their whole selves to work".
Consider also the language used to determine who is in and who is out. 'We.' 'They.' 'Those people.' How do you write your reports, blogs, articles, emails? Who are you assuming makes up your audience and what are you communicating about yourself and your attitude to other people, the same or different to you? Next time you're recruiting, or appraising, or deciding who your young tigers are for development, stop and consider who and what you approve of and why.
We claim diversity is an asset but do we actually act to the contrary? Why do you look and sound as you do? Which brand do you promote?