Chris Lake shares leadership development experience at international events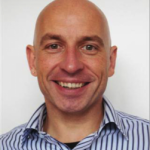 Our Head of Professional Development Chris Lake will be presenting at an international conference – the Future Health Summit – in Dublin, Ireland, this week to help develop leaders in healthcare.
Chris will be part of a panel of three experts on Thursday 27 May giving his opinion about leadership and its importance at the senior Health Leadership Summit.  He'll also be presenting on 'Authenticity, Congruence and the Imposter Syndrome' at the Nursing and Midwifery Summit later in the day.
Chris said: "I'm really pleased to be asked to contribute to both of these summits where I'll be able to share the Academy's thoughts on leadership and its importance in healthcare.  We know that good leadership builds stronger staff engagement and delivers better care at the frontline.
"The NHS Leadership Academy works to develop outstanding leadership in health, in order to improve people's health and their experiences of the NHS.  I'm glad that I'll be able to share our experience of developing outstanding leaders with other professionals at these events."
The Health Leadership Summit is an annual event which covers a number of topics and areas. Now in its sixth year, the event brings together senior figures in health and care from around the world to give their views with a roundtable audience.  The Nursing and Midwifery Summit is also open to staff across the healthcare system and develops, promotes and supports excellence in healthcare.