Developing inspirational leaders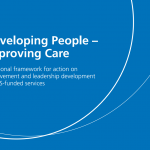 Mike Chitty, head of Applied Leadership at the NHS Leadership Academy, shares  how its leadership development intervention aims to help Epsom and St Helier NHS Trust improve performance and staff engagement.
The Academy's Applied Leadership Team offers a range of in-place leadership development offers to enable boards, and networks across the leadership spectrum to deliver their objectives while inspiring and motivating staff. Developing People Improving Care sets out to create five conditions common  to high quality, high performing health and care systems – the leadership intervention at Epsom and St Helier is ideally placed to support the condition of compassionate, inclusive and effective leaders at all levels.
The work we're doing with the trust was designed as a high quality leadership development intervention to help them with performance and staff engagement. This is ongoing work and continues – along with our relationship – to evolve.
The Academy originally met chief executive Daniel Elkeles when he participated in our Newly-appointed chief executive programme. Daniel was keen to improve staff engagement, and in turn, patient care. We discussed the lack of adequate management training to support our high quality leadership development work.
The creation of outstanding development support for leaders at all levels, both on programmes and in-place, is something the Academy is passionate about.  In partnership with any organisation or system the Academy can co-design  a series of short interventions to develop outstanding managers. These are based on the following equation:
Outstanding managers = great working relationships when they:
–             Give and get great feedback
–             Are a brilliant coach
–             Delegate effectively
–             Prioritise and manage time effectively
For Epsom and St Helier each of these areas had a two-hour workshop that provides a simple and fiercely practical 'how to' guide. The programme is  based on a psychological understanding of what people need to feel engaged and secure at work. At its heart – and indeed that of any of the Academy's interventions – is the unconditional positive regard for all people, and an emphasis on developing behaviours that create 'value'. The values of the NHS constitution are made explicit and brought into everyday management practices.
The programme has been well-supported by the director of transformation at the Trust – Kevin Croft – who is ensuring that every manager has a realistic span of control and the time to provide this level of outstanding management.
The programme is non-mandatory but each session is attracting about 150 managers from all over the trust. An increase in staff engagement scores is anticipated in areas where learnings from this intervention are applied.
Read more about the work taking place across the health and care system to develop the five conditions that Developing People Improving Care identifies here.