Experience how leadership makes the difference at the Health and Care Expo
Introduction Text:
The NHS Leadership Academy, supported by KPMG, is running a series of interactive sessions throughout the Health and Care Innovation Expo 2014 which will show how the 'whole systems' approach to healthcare can improve patient care.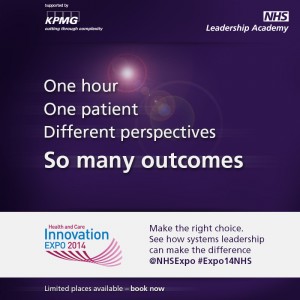 The Academy's experience includes a scenario involving a patient with dementia. The patient's family is closely involved, as is their GP, local NHS acute provider and commissioner, social care and the third sector.
The challenge to delegates is to get all of the parties working together. By playing an active part in the decision-making process, delegates will work in groups through the whole system's complexities to arrive at the best solution for the patient.
Helen Stevens, the Academy's head of engagement, said: "We want delegates to immerse themselves in this unique experience which offers unparalleled insights into systems leadership, and its potential to help us deliver high quality care.
"If you've been wondering what skills you need, and what issues you'll face as a systems leader, this is a great way to find out. You'll return to your workplace better equipped to face similar challenges."
The sessions will run every hour, on the hour, from 9am on Monday, 3 and Tuesday, 4March, during the Health and Care Innovation Expo at Manchester's Central Convention Centre. As slots are timed, you can book online before the event, which is strongly recommended to avoid disappointment.
Receive a free coaching session: Encourage five of your friends to book onto the one hour scenario and if our records show they have taken part in the experience you will receive a free coaching session. Just tweet us your list using #OneHourOnePatient – places are limited!
More details on the Health and Care Innovation Expo 2014 and how to book your sessions are available at: www.healthcareinnovationexpo.com
You can also find out more about the event by tweeting and using the hashtag: #Expo14NHS