Our finance trainee scoops award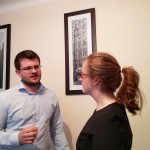 A big well done to Daniel Sunter – a graduate finance trainee at The NHS Leadership Academy who's celebrating after winning a Chartered Institute of Public Finance Award (CIPFA).
Daniel started on Graduate Management Trainee Scheme (GMTS) in September last year studying finance. He won the CIPFA prize for getting full marks on his management accounting paper.
He said: "I'm really proud of my performance but realise this is just the first set of exams, and the plenty of hard work lies ahead. I was pretty shocked when I got my results back. I felt the exam had gone well but you never expect to get full marks.
"GMTS has helped to prepare me well for my exam. I guess the proof is in the results really, I had no experience in finance prior to starting on the scheme. The training has allowed both myself and many of my colleagues perform well."
Chris Lake, Head of Professional Development at the Academy said: "This is fantastic news, and I'd like to congratulate Daniel on all his hard work. Our GMTS programme really makes a difference and helps graduates begin their career with the NHS."
The CIPFA awards recognise excellence in public finance and accountancy. Each year a prize is given to the best performer on each of the CIPFA academic papers.