Participants on the NHS Leadership Academy's nursing and midwifery development programme have expressed their praise for the course, and some of their learning, in a powerful open letter and video to the NHS.
In their letter, they say how the programme has reminded them why they first trained as nurses, to be brave and offer a stark warning to the NHS: "forget the people at your peril."
The programmes – one for frontline and another for senior operational nurses and midwives – are designed to enhance nursing and midwifery leadership skills to improve the care they and their teams are delivering on wards, in the community and at surgeries across the country.
Launched in March this year as part of a government pledge of over £40m towards leadership development in the NHS, at least thirteen cohorts will have completed the main part of the programme by March 2014.
Helen Christodoulides, Head of Nursing, Acute Medicine at Leeds Teaching Hospitals NHS Trust, said: "As well as sending a powerful message to the NHS, we wanted the letter to acknowledge our appreciation of the time that has been invested in our development. It has been such a fantastic experience that has enabled the entire group to make a difference to their teams back in their trusts."
Both the frontline and senior operational leadership programmes aim to help nurses and midwives become powerful, strategic leaders with a strong voice and give them the confidence to improve standards and have a more significant impact across the entire health and social care system.
Managing director of the NHS Leadership Academy, Jan Sobieraj, said:
'We know there is wonderful nursing leadership across the NHS, the NHS works as well as it does for millions because of it. Our programmes are designed to help those working at the front line reconnect with the passion and purpose they had when they joined the NHS and to do so in a way which can inspire those around them to do the same. We are very grateful to this group for sharing their feedback.
"We plan for over 10,000 nurses and midwives to have completed our programmes by March 2015 and look forward to seeing how Helen and her colleagues progress."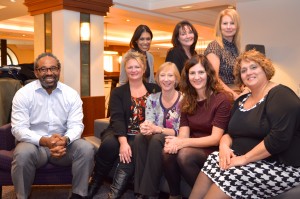 The NHS Leadership Academy has recently launched the most far-reaching and comprehensive leadership development portfolio the NHS has ever seen and the nursing and midwifery programmes are a part of the development of a new generation of healthcare leaders with patient care at the heart. The programmes will soon be taking on new applicants, to find out more please contact: [email protected]
Here is their letter:
MESSAGE TO THE NHS ABOUT THE IMPACT OF FIRST PHASE OF THE NURSING AND MIDWIFERY LEADERSHIP PROGRAMME 2013
Dear NHS,
We are like-minded people that really do care about the NHS. The programme has made us feel invested in; it has given us time to consider our priorities and made them feel real.
It has inspired us and enabled us to light fires and make changes so we can be who we want to be.
We had forgotten ourselves and why we came into nursing. It has brought us back to recognise our value.
The values of nursing are transferable to the values of leadership and we possess them.
It has given us strength and courage to stop doubting ourselves.
The impact of this is we can step up and create the right environment to change things, we are doing this.
Our impact group came together because we spoke from the heart, recognised genuineness and trusted our instincts. There is already huge loyalty within our group.
We want to warn the NHS: "Forget about the people at your peril"
We want to be the most brilliant we can be. We won't accept adequate.
We will be brave, we will challenge, and we will display the behaviours we want to see.
We have begun a journey of self-discovery and self-awareness.
We recognise our power.
Thank you.