Local GP and member of NHS South Manchester Clinical Commissioning Group (CCG), Dr Naresh Kanumilli, is the face of the most innovative and far reaching suite of national development programmes the NHS has ever seen.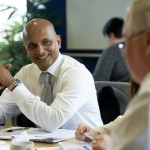 Dr Kanumilli, whose picture appears on banners, flyers and posters across the country, as well as websites and social media, is also the Clinical Lead for Quality and Performance lead for South Manchester CCG and has practiced in the area for sixteen years.
Dr Kanumilli said: "Although I agreed to have my photographs taken at a recent board meeting, I didn't quite realise how far the pictures would go. My face has been on both the HSJ and Nursing Times website – as well as being blown up to seven foot tall on banners at national conferences!
"As part of a newly authorised organisation, I am happy to support anything that motivates and inspires potential new leaders into the NHS and ultimately has improved outcomes for patients and their experiences."
Developed by the NHS Leadership Academy, and delivered in partnership with local and regional partners, the leadership development programmes are the first set of national programmes to combine successful leadership strategies from international healthcare, commercial organisations beyond healthcare and expert academic content.
The five programmes, named after inspirational healthcare greats, are available for everyone working in health and NHS funded care and are designed to develop outstanding leaders who can make a real and exceptional difference to patient care.
Chris Lake, Head of Professional Development at the NHS Leadership Academy, said: "Our programmes are designed for people from all areas of the healthcare system – and this is exactly what we wanted to capture in every aspect of their development. We can't thank Dr Kanumilli and the board in South Manchester Clinical Commissioning Group enough for being a part of this.
"Aimed at the full range of NHS staff, our programmes are for anyone working in health and social care who want to create a more capable and compassionate NHS by becoming the best possible leader that they can be."
Thousands of staff working in NHS-funded care are expected to go through the programmes over the next three years alone and by working in partnership with high profile universities, businesses and patient groups, these programmes have been designed to change the way health is led for the new generation of patients.
Named after inspiring leaders who made a significant difference to health and patient care, the programmes are:
The Edward Jenner Programme – Leadership Foundations is an open access online learning package designed to support anyone looking to gain essential leadership skills. Designed for newly-qualified clinicians, but open to all, this programme leads to an NHS Leadership Academy award in Leadership Foundations.
The Mary Seacole programme leads to an NHS Leadership Academy Award in Healthcare Leadership and a Postgraduate Certificate. For those who want to take on their first (formal) leadership role, this one-year programme combines experiential and online learning, personal development delivered locally, leadership diagnostics, group learning and stretch assignments. It develops key leadership skills, like holding appraisals and giving feedback, staff engagement, communications, leading patient-centred services, patient safety and decision-making. The programme will be open to all those working in health (nominated by an individual's place of work) regardless of professional or academic background.
The Elizabeth Garrett Anderson programme leads to an NHS Leadership Academy Award in Senior Healthcare Leadership and an MSc in Healthcare Leadership. When leaders are approaching readiness to take on more senior leadership roles – leading multiple teams or services – they can apply for this programme. The Elizabeth Garrett Anderson programme provides personal development, online and classroom-based academic sessions, group working, assignments and mentoring/coaching. The programme is 2 years long, and available to all those working in the NHS or in NHS funded care, regardless of professional background.
The Nye Bevan Programme leads to an NHS Leadership Academy Award in Executive Healthcare Leadership. Working at an executive level in the NHS offers some very particular challenges, and this stretching programme is for those who are ready to apply for executive level roles. The Nye Bevan Programme is centred on the needs of patients, and led by internationally-renowned academic and business leaders. The one year development programme combines a significant element of personal and behavioural leadership development with the knowledge and skills needed to operate successfully at the most senior levels in NHS organisations.
Applications for the majority of the programmes close on Sunday, 30 June. Full details on the programmes and how you can apply are available from the NHS Leadership Academy website.