Introduction Text:
Over 2,500 nurses and midwives are being supported to do the job they love even better, and increase their influence on how care is delivered through a major new leadership development programme.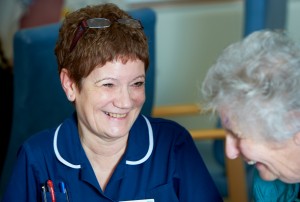 Places on the Frontline nursing and midwifery programme have been filling up fast all around the country since its launch last April. The programme supports all nurses and midwives working in people's homes, nursing homes, out in the community, or on the wards providing NHS funded care. Delivered over six months, and taught through a mix of online learning and face-to-face workshops, the Frontline nursing and midwifery programme has now supported almost 40 cohorts to be the nurses or midwives they want to be. In these times of high pressure and demand, the programme has helped them to develop the skills needed to reflect on their strengths, role and their ability to do what they came into the profession to do – make a difference to people's lives.
In October 2012, the government pledged £46m toward leadership development in the NHS as part of the biggest drive to create a new generation of leaders – crucial to ensuring the safety and quality of patient care. This new drive included the development of at least 5,000 nurses and midwives and since its launch last April, the programme has now exceeded the half way mark in less than six months.
Deputy managing director at the NHS Leadership Academy, Karen Lynas, said: "I'm delighted at how well received the programme has been in such a short space of time. We have heard stories from staff who have never had any leadership development at all – sharing with us the enormous impact this has had on them, their colleagues and the positive impact on patient care. We want all nurses and midwives to benefit from our development so that it helps them reconnect with the passion they bring to their work, helps them understand the complex system they operate in so they can better influence it, helps them understand how to exercise the real control they already have in a way which is effective, and helps bring out all the qualities they possess to positively impact those around them.
"This programme is about pushing against the boundaries of your control and influence so you lead as much of your own professional lives and the work of those around you that you possibly can."
The Frontline nursing and midwifery programme is delivered by the NHS Leadership Academy as part of the most far reaching and comprehensive investment in leadership development the NHS has ever seen. It builds on the success of the previous nationally-delivered nursing and midwifery leadership programme, incorporating online learning with face-to-face sessions delivered regionally to be accessible to as many nurses and midwives as possible.
Places are fully funded for all NHS staff or those delivering NHS funded care, and are allocated on a first-come, first-served basis. To find out more and apply, visit the NHS Leadership Academy website: new.leadershipacademy.nhs.uk/frontline