NHS Leadership Academy sponsors Top Leadership Award in the Windrush 70 Awards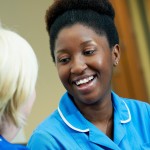 In the run up to the 70th birthday of our National Health Service (5 July 2018), the NHS Leadership Academy was proud to sponsor an award in the Windrush 70 awards.
Over the last 70 years, the NHS has relied on talent and workforce from around the world to make it work. The Windrush 70 awards will celebrate the contributions of black and minority ethnic (BME) contributions to the NHS, from the Windrush generation of 1948, the south Asian arrivals in the 1960s and 70s, to today's 202 nationalities represented in the workforce. It is a fantastic opportunity to say thank you and to recognise a wide range of achievements, breakthroughs and unsung heros.
In total there are 11 categories, and the NHS Leadership Academy sponsored the Top Leadership Award. Nominations closed on Friday 27 April.
Leadership is not just about seniority or rank. Leaders can be inspiring. They set examples to show how things should be done. They challenge us and they make us want to follow them. Exceptional leaders, never settle for "all right" they strive for better. They listen to and empathise with their colleagues and patients who are center of all they do. 
Find out more information here